Meg Sobkowicz-Kline, Ph.D.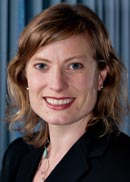 Margaret Sobkowicz-Kline
Assistant Professor
Contact
Plastics Engineering Department, Ball 121
University of Massachusetts Lowell
1 University Avenue
Lowell, MA 01854
978-934-3433
margaret_sobkowiczkline@uml.edu
Office Hours (Fall 2015)
Monday 3:00 - 5:00
Tuesday 1:00 - 3:00
About the Sobkowicz Group
Research and teaching in the Sobkowicz-Kline Group is at the convergence of materials and engineering for environmental sustainability. We are interested in the role that polymeric materials can play in creative solutions to the critical challenges our society faces on this planet.
We have ongoing projects studying structure-property relationships and novel synthesis techniques for bio-based polymers. We focus on processing strategies for improving properties and expanding applications of bioplastics.
We are also interested in electroactive polymers for new energy applications, such as organic photovoltaics and flexible electronics. We are focused on development of new green manufacturing techniques.