Nevada Doctors in the News, 2005-2010
""If we start stringing up 16 doctors a day...you can't expect we're going to have any medical care," [said Tony Clark, Executive Director of the Nevada Medical Board]. He said the fact that Nevada has few doctors means "accommodations" must be made for physicians with some deficiencies," Las Vegas Review Journal, 7/2/07.
In 2007, when Public Citizen ranked the Nevada State Board of Medical Examiners (NSBME) among the five worst medical boards in the U.S., the distinction was nothing new for the troubled board. The NSBME's dismal record in fulfilling its mandate to protect patients from unfit doctors has been the subject of public controversy for years. In 2002, KVBC-TV reported that the legislature was about to "discipline the discipliners" after the station ran an exposé of the Medical Board's lax approach to physicians with multiple malpractice claims. Two years later, Reno Gazette Journal reporter Frank Mullen wrote a series of articles detailing the Medical Board's continuing failure to reign in dangerous doctors and safeguard the rights of upstanding physicians. As you can see from the summaries below of a selection of cases from 2005 to the present, the Board's long-term dysfunction has enabled crowds of physicians to keep on injuring patients despite multiple complaints against them.
In considering the Medical Board's mishandling of these cases, remember that the Board refuses to act on the overwhelming majority of complaints. In 2008, for example, the Board opened over six hundred investigations, mostly in response to complaints from the public. However, it took disciplinary action in only 27 cases, and these actions did not, for the most part, prevent the doctors involved from conducting their business as usual.
Unlike the overwhelming majority of states, Nevada's Medical Board only supervises licensed medical doctors, leaving it to a variety of other boards to supervise other types of physicians such as osteopaths, homeopaths, and chiropractors. The result is not only that patients are often confused about where they should direct complaints, but also that dangerous and incompetent providers tend to fall under the faulty radar of their accommadating colleagues. There are, for example, hundreds of osteopaths practicing in Nevada. However, Nevada's Board of Osteopathic Medicine
During 2008 and 2009, after a series of high-profile scandals, including the exposure of up to 50,000 patients to serious diseases at endoscopy clinics in Nevada, the state's historical indifference to health care regulation came under renewed scrutiny. It is too soon to tell if the Medical Board will change its ways in the face of public outrage. However, it is clear that Nevada has become a magnet for incompetent doctors, and it will take years for state officials to clean up the mess that developed over decades as lawmakers and regulators sought to promote the interests of profiteering charlatans rather than fulfilling their mandate to protect the public.
Note: I began researching medical misconduct in Nevada after my late sister, Ellen M. Gallagher, was taken by her domestic partner, Caryn King, from her home in Sacramento and subjected to weeks of painful and unnecessary treatment at Dr. Frank Shallenberger's Center of Alternative and Anti-Aging Medicine in Carson City. I soon discovered that Shallenberger was just one among many disreputable doctors who had moved their practices to Nevada to evade disciplinary actions against them in other states. Consequently, as is plain from these pages, I created this web site, not because I have some vendetta against Shallenberger or some bias against alternative medicine, but because I am interested in seeing if posting documentary materials about a specific political problem might be useful in helping to promote reform.
All of the information here was culled from public records and mainstream media accounts. While I am happy to correct mistakes, I will not respond to threats. If you have verifiable information about medical misconduct in Nevada, please contact me.
Nevada Doctors in the News, 2005-2010

In 2005, when homeopath James Forsythe, MD, was indicted by federal officials for drug-smuggling and other violations, the Reno Gazette Journal revealed that at least 19 people had filed complaints against him with the Medical Board, and a state investigator described him in a sworn affidavit as "one of the five most serious physician offenders known in the state of Nevada." At the time, Forsythe's record showed that only one disciplinary action had been taken against him. In 1995, he was fined $1,000 for overbilling for medical tests and was also forced to pay the Board $44,000 that was supposed to be "used by the Board for future protection and awareness," but there is no evidence that the Board made any effort to protect the public from Forsythe or to make anyone aware of the dangers he posed.
Fourteen years later, in January of 2009, the NSBME finally took action, charging Forsythe with malpractice after he began treating a patient for prostate cancer without performing any laboratory tests.
---

In September 2007, the Medical Board found homeopathic MD Frank Shallenberger guilty of one count of medical malpractice as a consequence of his mistreatment of David Horton. Horton died after Shallenberger misdiagnosed his colon cancer as hemorrhoids, treated him with witch-hazel and other ineffectual remedies, then, after the cancer had spread, unsuccessfully tried to combat the disease with Insulin Potentiation Therapy, a controversial treatment that has never been accepted by mainstream oncologists.
In contrast to what happens at most medical boards, where previous misconduct is usually taken into account, the NSBME ignored the fact that Shallenberger had been forced to surrender his license in California in 1995 after the medical board there found him subject to multiple disciplinary actions due to "gross incompetence," "repeated acts of gross negligence," and "acts of dishonesty and corruption which are substantially related to the qualifications, functions, or duties of a physician and surgeon." Consequently, for his direct contribution to Horton's death, the Nevada Board fined him only $5,000 and ordered him to pay $6,500 in legal costs.
At the same meeting, the Board dismissed a second complaint against Shallenberger, maintaining that it could not discipline him for mistreating a patient with severe cognitive impairments because he also holds a homeopathic license, and homeopaths in Nevada do not have to conform to ordinary standards of medical care even when they are also licensed MD's.
In August 2009, the Medical Board responded to yet another complaint against Shallenberger, charging him with two counts of malpractice for misdiagnosing and mistreating a patient by ignoring laboratory results and improperly prescribing medication.
---

Dr. Kevin Buckwalter's dangerous incompetence was first brought to the attention of the Nevada State Board of Medical Examiners in 2005. However, the Medical Board did not prevent Buckwalter from prescribing thousands of pain pills to known drug addicts over the next three years even though numerous complaints had been filed against him. In 2008, after the Las Vegas Sun reported on Buckwalter's dangerous practices, the Medical Board finally stripped him of his license. By that time, he had been implicated in the deaths of eight patients, including a newlywed couple who both died after Buckwalter prescribed them excessive amounts of painkillers without reviewing their medical records or subjecting them to any physical examination.
In November 2009, the Medical Board reportedly backed off an agreement it had reached with Buckwalter's lawyer that would have allowed him to reapply for his medical license after a two-year revocation. According to the Las Vegas Sun, "Board member Dr. Michael Fischer, who made the motion to reject the settlement, refused to say whether the panel viewed it as too lenient or too strict. Board officials said members could not comment on the case because it hasn't been resolved."
---

Dr. Conrad Murray, who served as the late Michael Jackson's personal physician, is under investigation for his role in the pop singer's death on May 25, 2009. Murray, who lives in Las Vegas, is licensed to practice in Texas, California, and Nevada. Noting that he had yet to be paid by Jackson's estate after he reportedly provided Jackson with a fatal dose of propofol, a powerful anesthetic, Murray reopened his medical practice in Houston. According to media accounts, Murray purchased the drug in Las Vegas and had it sent to California.
If it turns out that Murray improperly prescribed narcotics to Jackson, the case would not be unusual in Nevada. In 2008, the Las Vegas Sun reported that the number of deaths caused by prescription drugs in Clark County exceeds the number of deaths caused by street drugs, car accidents, or firearms.
---

Dr. Albert Yeh, a Las Vegas-based physician who runs clinics in Arizona and Nevada, was charged on July 14, 2009 with operating a massive illegal drug operation and insurance scam . According to DEA officials, Yeh wrote hundreds of illegal drug prescriptions and collected over $3.5 million in fraudulent insurance claims. Testimony provided by Yeh's medical assistant, Brian Espinoza of Henderson, indicated that Yeh typically wrote over 100 prescriptions every Tuesday, so many that Tuesday came to be known as "Yeh Day" at local pharmacies.
---

In January 2010, Dr. Mark Kabins was sentenced by a federal judge after pleading guilty in connection with his involvement in a complex conspiracy to defraud Melodie Simon, a patient who became paralyzed after routine spine surgery in 2000. The case, whose participants have come to be known as the "Medical Mafia," evolved from charges against attorney Noel Gage and medical consultant Howard Awand, who allegedly arranged secret deals with doctors, lawyers, and others that enabled the co-conspirators to siphon off millions from settlements at the expense of injured patients.
According to LasVegasNow.com, other doctors who have been subpoenaed or targeted by the U.S. Attorney's office include Dr. Mark Kraft, Dr. Raimundo Leon, Dr. Brian Lemper, Dr. Jim Thomas, Dr. David Oliveri, Dr. Michael Prater, Dr. Witold Iglikowski, Dr. Benjamin Venger, and Dr. John Thalgott. Of these, two physicians, Venger and Thalgott, have testified for the prosecution, acknowledging that they participated in order to get kickbacks from Gage and shield themselves from potentially damaging malpractice claims.
Although Kabins pleaded guilty to fraud in November 2009, the Nevada State Board of Medical Examiners has not taken action against him. The NSBME did file a complaint against Benjamin Venger and found him guilty of malpractice in part for his untruthful testimony in the Simon case. But while Venger was put on probation, neither he nor any other doctor involved in the scheme has been prevented from practicing medicine.
<>
---
---

Dr. Depak Desai, who served on the Nevada State Board of Medical Examiners from 1993 until 2001, was ordered to pay $2,500 in 1996 to settle a complaint against him for falsely advertising that the doctors on his staff at the Gastroenterology Center of Nevada were board-certified. But the real threat that Desai posed to the public did not come to light until the Southern Nevada Health District announced on February 28, 2008 that as many as 50,000 people may have been exposed to hepatitis C and other blood-borne diseases due to widespread mishandling of syringes at the Southern Nevada Endoscopy Center over the previous four years.
Desai owns and manages the clinic along with other lesser partners. During the investigation into dangerous procedures at Desai's business, doctors, nurses, and other staff acknowledged that the improper use of syringes, as well as failure to clean medical equipment, was routine despite obvious risks to public safety. The Medical Board could have suspended Desai's medical license. However, aftermath of revelations about unsafe practices at Desai's clinic, the Board could have suspended his license on an emergency basis, as it sometimes does when it receives reports that doctors have been engaged in dangerous conduct or criminal activity. Instead, Board President Board President Dr. Javaid Anwar, Desai's long-term friend and associate, and Executive Director Tony Clark brokered an agreement that allowed Desai to suspend his practice temporarily while keeping his license free from any record of disciplinary action. Anwar and Clark both insisted that the agreement reached with Desai had nothing to do with his previous service on the Medical Board or with the high-level political connections that earned him an appointment to Governor Jim Gibbon's healthcare advisory team.
---

In the midst of ongoing investigations into Desai's clinic, other irregularities have come to light including possible insurance fraud. Testimony in a malpractice suit against Dr. Clifford Carrol, one of Desai's partners, revealed that the Nevada Endoscopy Center may have routinely overbilled for anesthesia during procedures while also failing to spend the time required to conduct adequate exams. In 2008, Carrol paid a $2 million settlement to Kevin Rexford, a patient who developed terminal colon cancer after the doctor failed to detect the disease in an earlier stage during a hasty exam. Although Carroll spent only a little more than three minutes on what should have been an eight minute exam, he billed the insurance company for a much longer period of anesthesia, thirty-one minutes, in an apparent effort to maximize the revenue derived from the procedure.
According to the Las Vegas Sun, "The clinic committed three fundamental errors in the case, said Dr. Russell D. Yang, a gastroenterologist and associate professor at the Keck School of Medicine at the University of Southern California who is working on Rexford's behalf: failure to identify the signs of colon cancer, technical failure in performing the endoscopy, and institutional failures in quality assurance." Carrol's errors were apparently due to his drive to perform as many profitable procedures as possible in the shortest amount of time. In his deposition, he acknowledged that he usually performed between 30 and 33 procedures each day and once managed to set a record of 50.
---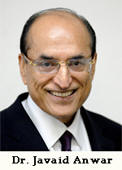 The lapse in quality assurance that occurred in the Rexford case was apparently missed in a review by Quality Care Consultants, which is co-owned by Dr. Ikram Khan, former Medical Board member and advisor to Governor Gibbons, and Dr. Javaid Anwar, former president of the Medical Board and a current Board member. Quality Care Consultants evaluated Desai's Endoscopy Center in 2007 to see if it measured up to industry standards. While acknowledging being "paid in full," Anwar did not disclose whether his company had detected any of the dangerous practices that health officials now say went on at the clinic for years, nor did he say whether Quality Care Consultants had given Desai any tips on reducing costs. Saving money was reportedly Desai's main reason for rejecting standard procedures despite the health risks involved.
In the immediate aftermath of revelations about unsafe practices at Desai's clinic, the Medical Board could have suspended his license on an emergency basis, as it sometimes does when it receives reports that doctors have been engaged in dangerous conduct or criminal activity. Instead, Board President Anwar brokered a deal that allowed Desai to suspend his practice without showing any disciplinary action on his record. In response to public outcry against the agreement, Anwar recused himself from participation in Board matters involving Desai, but refused to resign from his position despite public calls for him to step down.
---

Like Anwar, Medical Board member Dr. Stephen Daniel McBride was also forced to recuse himself from all matters related to the Endoscopy Center crisis due to his ties to Desai. As Paul Harism reported in the Las Vegas Review Journal, it turned out that one of McBride's links to Desai was that McBride was Chair of the Nevada Mutual Insurance Company, which provides malpractice insurance to physicians, while Desai served as a board member. Under a barrage of criticism for the clear conflict of interest with his position on the investigatory committee of the Medical Board, McBride apparently gave up his seat at Nevada Mutual, as did Desai, who reportedly withdrew after charges against him were made public.
In light of McBride's leadership role in the malpractice insurance industry, it would be helpful to learn more about his input into in the Medical Board's 2005 decision to delete all information related to malpractice claims from its web site, as well as his connections to "Keep Our Doctors in Nevada," one of the leading groups lobbying for tort reform in recent years. And it would likewise be enlightening to find out how many of the doctors disciplined by the Medical Board during McBride's tenure signed up and paid for the CME courses offered on Nevada Mutual's web site.

---
McBride has much in common with Dr. Rudy Manthei, DO, former president of the Nevada State Board of Osteopathic Medicine. Like McBride, Manthei helped to promote caps on malpractice insurance claims while simultaneously participating in the investigation and determination of malpractice complaints against physicians. Manthei not only chaired Keep Our Doctors in Nevada, the principal group lobbying to reduce patients' rights, he also served alongside Deepak Desai on Governor Jim Gibbons' healthcare advisory team.

During Manthei's term as president, the Osteopathic Board fell into disarray, due in part to fiscal problems that developed after its Deputy Assistant Director, John E. Delap, began to siphon funds to feed his gambling addiction. Dr. Larry Tarno, Executive Director of the Osteopathic Board, later acknowledged that the shortage of funds that developed between 2002 and 2005, when Delap had access to Board accounts, forced him to terminate the only investigator on staff. Two years later, after the charges against Delap came to light, Tarno was quoted in the Las Vegas Review Journal, "We have not had a formal investigator since then... This has put me in a position of having to curtail activities of investigations. We have gotten some complaints from people that we're burying things." Manthei apparently left the Osteopathic Board in 2007, but his brother, Dr. Scott Manthei, was appointed to the Board in 2008.

From recent news accounts, it appears that Rudy Manthei hasn't lost his political clout. In August 2009, Manthei was charged with two counts of contributing to the delinquincy of a minor after he allowed underage partiers to drive away from his home even though he had served them alcohol. However, in contrast to what normally happens in similar cases in Henderson, Manthei seems to have convinced police to let him off.
---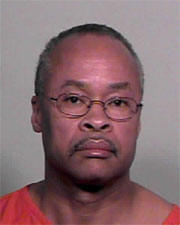 Dr. David Linden, who is licensed both in Nevada and in Oklahoma, was featured in a major story in the New York Times in 2007 after the FDA found that he had imprisoned a subject of a research study at his psychiatric clinic in Oklahoma City. The Times also reported that Linden's Oklahoma license had been suspended in November 2006 for three months by that state's medical board because two of his patients had contracted herpes from him due to improper sexual contact.
While Linden's 90-day suspension for such egregious misconduct might have seemed too light to most people, it apparently seemed too harsh to the Nevada State Board of Medical Board Examiners (NSBME), which elected not to prevent him from practicing psychiatry even for a day, but chose instead to place him on probation. Now it seems that the NSBME's efforts to protect Linden from himself, instead of protecting his patients, have backfired: He is back in the public eye after having been arrested on February 28, 2008 for passing over $300,000 in bad checks in Las Vegas casinos.

Dr. Kurt Buzard, an ophthalmologic surgeon, was arrested in Las Vegas in 2003 for cocaine possession. Travelling in a speeding convertible with an unidentified female companion, Buzard was wearing a dog collar, a sheet, and little else when he was pulled over by police on August 24. Apparently unaware that Buzard had faced similar drug charges in Colorado in 1985, the police ordered him to appear for booking three weeks later.
In June 2006, long after Buzard had cut a deal that allowed him to avoid jail time on the cocaine charge, the Nevada State Board of Medical Examiners publicly reprimanded him for bringing the medical profession into disrepute. Ultimately, having enabled Buzard to continue performing eye surgeries for almost four years despite his substance abuse problems, the Nevada Medical Board reached an agreement with him to inactivate his medical license. According to the agreement, Buzard's license has not been revoked or suspended, and he is free to apply to re-activate his license in the future.
---

In June 2006, the Nevada Medical Board revoked Dr. Harriston Bass's license at an emergency meeting. The Board had also revoked his license in 1993, after finding him guilty of gross and repeated malpractice that led to the deaths of two of his patients. However, the Board stayed the revocation, placed him on probation, and enabled him to continue treating patients in Nevada for more than a decade. Although the Medical Board removed information about malpractice claims from its web site in 2005, John L. Smith, a columnist for the Las Vegas Review Journal, reported that Bass, who became a prison doctor while under probation, was sued by an inmate at the Southern Nevada Correctional Facility in 2001.
Bass's troubled history again resurfaced after Gina Micali, a patient at his PT Cruiser-based mobile clinic, Doc's 24-7, died from a prescription drug overdose on October 6, 2005. Authorities alleged that Bass sold Micali 300 hydrocodone pills two days before her death and also wrote her a prescription for the drug even though he was not licensed to dispense controlled substances. Bass was found guilty of second-degree murder on March 5, 2008 in Las Vegas.
---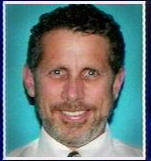 The Medical Board revoked Dr. Doyle Stuart Steele's license to practice medicine in November 2007, five years after it found him not guilty of medical malpractice in the first complaint filed against him. During that period, Steele was ordered to undergo a mental evaluation after questions were raised about his competency in 2004, and a second complaint was filed against him in January 2005. That complaint alleged that he had failed to report hospital sanctions against him and that he had engaged in sexual relations with one of his patients.
In July 2005, Steele and his colleague, Dr. Richard Groom, were sued by the family of a man who was killed when one of their former employees, for whom they had reportedly prescribed over 5,000 painkiller pills during the previous year, ran him, along with a woman who was seriously injured, down on June 6, 2004 as they stood on the side of a Las Vegas highway. Meanwhile, on July 1, 2005, the Medical Board suspended Steele's license pending the outcome of an investigation into whether he had improperly prescribed controlled substances to three patients, including one with whom he had allegedly had sexual relations.
In December 2005, Steele was arrested for writing Oxycontin prescriptions for drug dealers in Virginia and for trading drugs for sex in Las Vegas. Late last year, after Steele was sentenced to seven years by a Virginia judge, the Nevada Medical Board finally stripped him of his license. However, in a statement to the press on Steele's case, a Medical Board spokesperson stressed that the revocation was not necessarily permanent: ""People who redeem themselves and re-educate themselves and pay their debt to society would be welcome to re-apply," the board spokesperson said."
---

In June 2007, Dr. Stephen Seldon and his wife, Deborah Seldon, received national attention when they were charged on various counts by federal authorities after they allegedly injected patients with a cheap substitute for Botox that is not supposed to be used on human beings. Two years later, Stephen Seldon was sentenced to 46 months in prison, while Deborah Seldon received 30 months after the two were found guilty of multiple counts of mail fraud and one count of improper sale of adulterated drugs.
In a departure from its usual practice of treating these types of violations extremely lightly, the Nevada State Board of Medical Examiners revoked Seldon's license in December 2008. The difference in the Seldon case could have been media coverage or the fact that the couple faced federal charges. Seldon was, however, clearly treated much more harshly than other physicians similarly charged. For example, in March 2007, after finding Adelaida Resuello, MD guilty of similarly substituting an unapproved botulism toxin for Botox, and also for assisting an unlicensed person to inject the poison into patients, the Board fined her a paltry $2000 and placed her on probation. And when the Board found Gregory Bryan, MD guilty of injecting people with fake Botox, and of improperly supervising a physician's assistant, it fined him a mere $1,000 and ordered him to take a few courses on charting and medical ethics.
Likewise, in contrast with its historically lackadaisical attitude, the Medical Board went so far as to arrest one of Seldon's medical assistants for providing Botox injections even as Board members acknowledged that the practice of allowing assistants to perform the procedure was widespread in Nevada. The Board's inconsistent enforcement of existing statutes backfired when the arrest caused general confusion about whether medical assistants could provide flu shots, a question that became especially pressing since it arose at the very moment that public health officials confronted the challenge of distributing H1N1 flu vaccine. The Board then went on to exacerbate the problems caused by its incompetence by attempting to adopt an emergency regulation that was later overturned because the discussion had been cut short by members' desire to break for lunch.
---
In September 2006, the Medical Board suspended the medical license of Dr. Layfe Anthony for one year, but then stayed the suspension on the condition that he complete a probationary period in Utah and comply with other restrictions on his practice. According to the Medical Board, Anthony was subject to this relatively light disciplinary action because he had failed to report sanctions imposed on his Utah license and had also made inaccurate statements in his application for renewal of his license in Nevada.
Among other problems, Dr. Anthony's record includes a conviction for negligent homicide in Utah in 2002 in the death of a woman from Bunkerville, Nevada after she received a liposuction treatment from him. Anthony caused the woman's death when he provided injectable painkillers to her husband, who had no medical training, and advised him to inject his wife at home because she did not want to return to Anthony's office. That same year, the DEA revoked Anthony's registration on the grounds that he was not authorized to handle controlled substances in Utah. In December 2009, after Utah's Medical Board revoked Anthony's license, the Nevada Medical Board filed another complaint against him. However, it is not clear from public records whether he is continuing to practice in Nevada or any other state.
---
The NSBME's Faulty Radar
The recent cases summarized above only include those in which the NSBME took some sort of disciplinary action against physicians whose subsequent wrongdoing landed them in the news. But since the Medical Board addresses only a tiny fraction of the hundreds of complaints that it receives each year, it is virtually impossible to gage how many incompetent doctors are currently treating patients in Nevada. Nonetheless, having come under scrutiny, Anwar justified making malpractice information more difficult for the public to obtain. According to the Las Vegas Sun:
Dr. Javaid Anwar, president of the State Medical Examiners Board, and fellow board member Donald Baepler both said malpractice claims and settlements are misleading barometers of a physician's competence. Insurance companies often will settle malpractice claims for hundreds of thousands of dollars even if the doctor wasn't really at fault to avoid the possibility of losing millions of dollars at trial, Baepler said...And Anwar said a physician with only one malpractice case could have been involved in a far more egregious situation than a doctor with 10 claims..."The number of lawsuits is not a good way to judge how good a physician is," Anwar said. "Sometimes they simply go after the doctor with the deepest pockets."
Page update in progress...1/10
Who's in Charge Here?
The Nevada State Senate Committee on Commerce and Labor
While the governor appoints its members, the NSBME's long-term history of incompetence can be chalked up to the indifference and ineptitude of the legislature, especially the Nevada State Senate Committee on Commerce and Labor, which is supposed to oversee the activities of state licensing boards. According to the Las Vegas Review Journal, the Committee's Chair, Ralph Townsend, who also serves as Chair of the Legislative Commission, sent letters to the Governor and to various state boards and agencies demanding a searching inquiry into the failures that allowed the state's current health crisis to balloon to such proportions:
In the letters, the Reno Republican asked for an immediate investigation into "the facts surrounding this outrage," which "may well be the largest breach of public trust in the history of the state."...Townsend said the agencies and boards should use all of their statutory and regulatory authority, including subpoena power, to get to the bottom of how the problems occurred.
Townsend's bluster would be more believable if he had not assumed a similar stance four years ago when media reports on the Medical Board's failure to discipline dangerous doctors prompted him and his colleagues to demand a thorough audit of the Board's performance. Then, when the audit turned out to be nothing but a friendly clap on the back from industry insiders, Townsend and his fellow legislators went back to ignoring the Board's continuing inability to safeguard public health and safety.
Townsend might also have more credibility if he and his Committee had shown some appreciation for integrity in medicine during the 2005-2007 legislative session. Instead, in April 2007, after hearing testimony from Dean Friesen, an unlicensed pharmacist who is now under investigation for passing himself off as a licensed physician, the Committee unanimously approved a bill to allow unqualified homeopaths to supervise and profit from stem-cell research and clinical applications in Nevada. The stem-cell bill was part of a larger effort to promote medical tourism by creating the Nevada Institutional Review Board (NIRB), which was designed to circumvent federal regulations and legalize medical devices and treatments that have been or would be outlawed in other states. The bill nearly died after other legislators realized that it had been concocted by practitioners who had no recognized credentials or experience in either protecting human subjects—which is the primary purpose of institutional review boards—or in any other aspect of medical research. However, late on June 3, the day before the session ended, under the guise of a bill that would have eliminated the NIRB in July 2007, the legislature quietly extended its existence for two more years. Having replaced all references to "2007" with "2009," lawmakers added the last-minute stipulation that the NIRB is authorized to "contract with a private company to conduct studies or other work related to non-embryonic stem cells in bioregenerative stem cell technology." (p. 391-395)
The Committee's unanimous disregard of Friesen's lack of credentials, along with the Medical Board's refusal to offer any opposition despite the dubious nature of his stem-cell scheme, illustrates the legislature's general incapacity to regulate the delivery of medical care. "Anything goes," the familiar watchwords of Nevada politics, may be acceptable approaches to gambling and prostitution in the eyes of many state residents, but, as evidenced in the Labor and Commerce Committee's irresponsible promotion of medical tourism, its failure to reverse the Medical Board's long-term slide into complete disarray, and the refusal of other elected and appointed officials to correct glaring problems that have been festering for years, this dictum doesn't work when it comes to the regulation and supervision of people who are supposed to provide trustworthy medical treatment.
A Sidelight: Another interesting topic discussed at the September '07 meeting was whether physician Board members should award themselves continuing medical education credits (CME) in ethics as additional compensation for serving on the Board. In addressing this issue, Chief Deputy Attorney General Christine M. Guerci-Nyhus observed that no other medical board in the country allowed such compensation, and she suggested that questions might be raised about enabling board members, who are in charge of setting standards for CME, to give themselves such an unprecedented perk. Consequently, without considering the ethical problems raised by this proposal, the Board decided that the best way to institute the added compensation would be to go through a "regulatory process." Late last year, without addressing any of the ethical issues raised by this proposal, and without explaining why service on the Board should count as a course in ethics, the Board adopted the new regulation.
Ironically, at the same meeting, the Board rejected a proposed rule that would have required members to disclose conflicts of interest, opting instead to sign a statement indicating that members were cognizant of Nevada's rules on ethics in government service. However, it's not clear if members are now obliged to acknowledge their numerous violations of the state's prohibitions against using government offices to advance personal business interests. It's also not clear if Board members are required to take the only ethics course offered by the Board, which is entitled "Protecting Your Medical License" —"Protecting Your Patients" apparently did not present itself as a suitable title— nor is it known if any of the physicians listed on this page availed themselves of this free two-hour course.
Additional information:
Urine test litigation nets doctor $100,000 (There is something really fishy here.)
If you don't ask about malpractice, Board of Medical Examiners won't tell

Snake Oil Salesmen Hit Jackpot in Nevada (archive)

EDITORIAL: Impotent oversight

Restoring public trust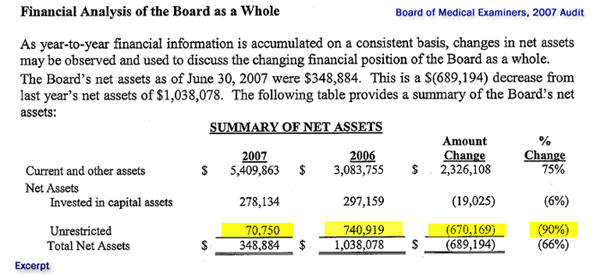 Page updated by Susan E. Gallagher, Associate Professor, Political Dept., UMass Lowell, 1/10