UML Pi Mu Epsilon
As stated at the Pi Mu Epsilon home page (http://www.pme-math.org/), Pi Mu Epsilon, Inc (PME), is the Honorary National Mathematics Society.

It was founded on May 25, 1914 at Syracuse University and currently has over 300 chapters at colleges and universities throughout the United States.

The purpose of PME is the promotion of scholarly activity in mathematics among the students in academic institutions.
The chapter at UMass Lowell (the Massachusetts Delta chapter) was established in 1978. Prof. Virginia Taylor was the faculty advisor for many years. When she retired, the chapter became inactive. Our chapter was recently reactivated by PME Council member Brigitte Servatius, Professor of Mathematical Sciences at Worcester Polytechnic Institute, who inducted eleven new student members.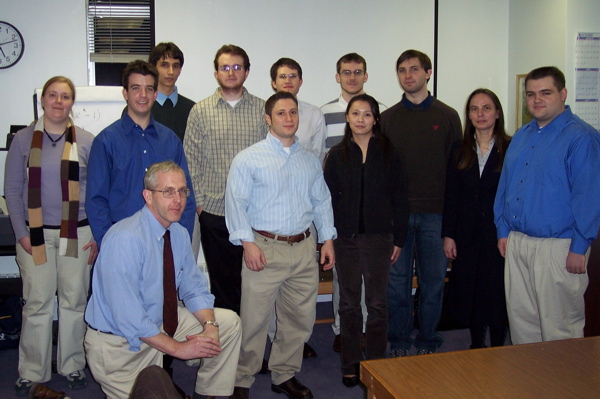 UMass Lowell Pi Mu Epsilon induction ceremony on January 26, 2007.

Back row from left: Jacob Kushkuley, Jason Percival, Ryan Beaven

Middle row: Mia Parviainen, Ryan Hill, Michael Williams, Tiffany Kot, Joshua Wladkowski, Prof. Brigitte Servatius (WPI), Ryan Masson

Front row: Steve Pennell, Paul Tishue

Inducted but unable to attend: Brendon Staruk.