James Sherwood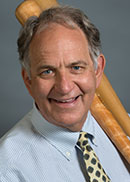 Contact
Southwick Hall 250
University of Massachusetts Lowell
One University Avenue
Lowell, MA 01854
978-934-3313
Biosketch
Dr. Sherwood is the Associate Dean for Graduate Studies in the College of Engineering at the University of Massachusetts Lowell and Professor of Mechanical Engineering. He earned his B.S in Engineering Science, M.S. in Applied Mechanics, and Ph.D. in Aerospace Engineering and Engineering Mechanics from the University of Cincinnati. He has nearly 40 years of experience using the finite element method for completing structural analyses and the simulation of composites forming. He has an international reputation for his research in composites manufacturing and sports engineering.
He is the Co-Director of the Advanced Composites and Textile Research Lab with expertise in the structural behavior of composites and for relating the composite manufacturing process to the resulting structural stiffness. His Composites Forming research team has developed a novel modeling approach for the simulation of composite forming using the finite element method and has expertise in the characterization of textiles used for making fabric-reinforced composites.
He founded the UML Baseball Research Center (UMLBRC) in 1999 with a seed grant from Major League Baseball and Rawlings Sporting Goods. Since that time, the UMLBRC has worked closely with Major League Baseball to explore scientific aspects of the game, e.g. wood bat durability and baseball compliance. The UMLBRC has also been an engineering resource for various sporting goods companies. He has published over 300 journal and conference papers on composite materials and sports engineering.
He is currently leading the NIST FIBERS (Facilitating Industry By Engineering, Roadmapping and Science) Consortium to identify and to address challenges faced by the U.S. Composites Manufacturing industry and to propose demonstration projects to advance the state of composites manufacturing in the U.S. His research (>$15M) has been funded by NASA, AFOSR, NSF, DOE, US Army Natick Soldier Research Development and Engineering Center, NIST, Major League Baseball, Little League Baseball, NCAA, and various sporting goods companies.

Expertise
Finite Element Methods, Constitutive Modeling, Composites, Composites Manufacturing, Sports Engineering