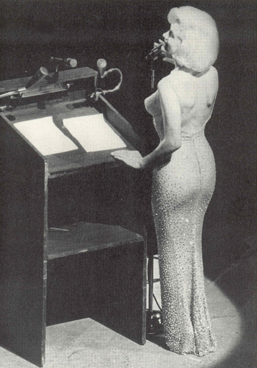 Clip will take a few moments to load...
Context
In May of 1962, Marilyn Monroe helped to celebrate President John F. Kennedy's 45th birthday at a spectacular party in Madison Square Garden. JFK's joke about Monroe's "sweet and wholesome" rendition of "Happy Birthday" was inspired not only by her scorching delivery, but also by the skin-tight dress into which she had been sewn for the occasion.

In 1999, the dress fetched over $1.26 million at a New York auction. The explanation for this fantastic price lies partly in the fact that Monroe wore it in her last important public performance, and partly in the fact that it has come to be seen as symbolic evidence of her sexual relationship with Kennedy. While nothing about this affair appeared in print while Monroe and Kennedy were alive, it is now routinely reported as certain in biographical accounts of both figures.
For more information, visit The Kennedys, American Experience, PBS.